LNG is the most environmentally-friendly, readily available, fuel for shipping today and in the foreseeable future.
For that reason an increasingly amount of sea ships is using LNG as marine fuel. LNG powered is the future and is in ports and coastal areas important for improving air quality and human health.
LNG BUNKER SOLUTIONS
A NEW CONCEPT BASED ON FIELD-PROVEN TECHN end of 2020 in Singapore.
This concept consists of a rigid boom within parallel running hard piped components. Points of rotation of this boom are bridged with swivel joints.
The final connecting element towards a ship is a flexible hose that is lifted on board of the receiving vessel with the bunker boom.
This existing design is used as a basis and specifically adjusted for LNG application, such as usage of a field-proven LNG hose and the development of a convenient electric, hydraulically actuated emergency breakaway coupler. This results in an extremely reliable and efficient bunkering solution with the widest possible reach so as to serve any different vessels, not limited to a pre-determined or type of vessels.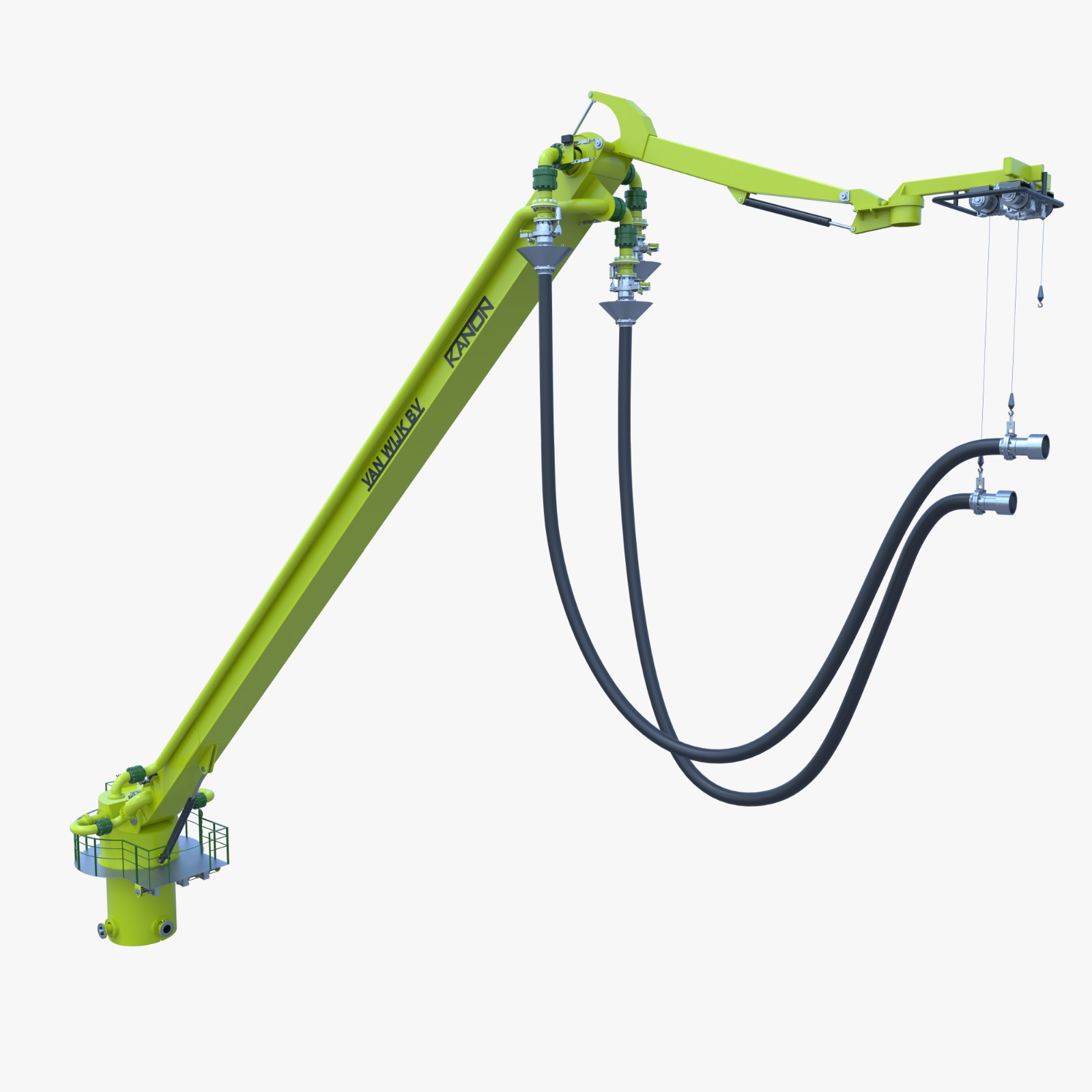 In itself, the boom is both a lifting structure and a transfer system. The fact that the final element is a flexible hose is for more practical reasons.
The big advantages of this bunkering vessel mounted arm are:
The bunkering vessel is used for parallel berthing to allow bunkering of receiving vessels simultaneously with their commercial loading and
offloading activities thus minimizing docking time.
The same bunker arm can be used to fill the bunker vessel from a storage tank on shore. (bi-directional)
A maximum of flexibility and very wide operation range to ensure a big variety in connection possibilities, as the position of bunker
connections on commercial vessels are not standardized like they are on oil and LPG/LNG carriers (per OCIMF);
Bunker connections can be found on various places, sometimes even only reachable via a hatch in the hull of the ship. For that reason, it is impossible to design a fully hard piped system (similar to a Marine Loading Arm) that can reach all different locations and compensate for tremendous height differences between bunker vessel and receiving vessel.
Singapore, one of the major hub ports of shipping operations in Asia, is preparing to launch expanded LNG fueling capabilities. In doing so, Singapore becomes one of the ports that is ready to service the growing list of vessels operating on liquefied natural gas (LNG) as their primary fuel.
FueLNG, a joint venture between Keppel Offshore & Marine and Shell Eastern Petroleum, recently took significant steps in expanding LNG-fueling capabilities. By the end of 2020 they offer, with the FueLNG Bellina, the first ship-to-ship LNG fueling capabilities in the port of Singapore.
Designed and built by Keppel O&M, the 7,500m3 LNG bunkering vessel, which was named FueLNG Bellina, is built at the Keppel Nantong Shipyard in China. The vessel's first contracts will be to provide ship-to-ship LNG bunkering to the Shell-chartered tankers and for one of Hapag Lloyd's container vessels. By the special designed and engineered bunkering boom from the dutch companies Van Wijk Werkendam and Kanon ship-to-ship bunkering for larger vessels such as containerships is available. In Rotterdam and Antwerpen this way of bunkering is the most used practice.